Prom was last night... and was more-or-less... underwhelming. Planned by Saints, it ended up in a Holiday Inn with a Pirate theme (though the second choice theme was Star Wars, so in my opinion, we got the better of the two). Now, let me tell you... this was the Prom from HELL! Quite literally, everything that could go wrong, did go wrong. And in the most optimistic way, we had a very hilariously entertaining time.

Now let me explain that our limo driver... oh wait, our "shuttle bus" (yes, like the vehicle you take to the airport) driver barely spoke english and could not to simple math to calculate how much we owed him for the night. Mallory's dress strap broke (because her boobs are way too big for her own good haha) but I managed to fix it because I am amazing. Our table had little to no decorations compared to every other table. We were conveniently situated next to the two tables containing my date's 2 ex-girlfriends who were both at one time/still are my friends. We, for some reason, were the only table not to be served dinner... it was like Hell's Kitchen! I had the teachers go yell at the servers who then proceeded to yell at our table, when all we wanted was our dinners when everyone else had already finished dessert. Mallory got bitched out by Emilio, our waiter, who then ignored us the rest of the night, and probably spit in the food we finally got. When we got food, it was cold, there was not enough, we all like passed plates around the table. The pasta was cold. Half the people at our table ordered chicken- they ran out, even though they would have had time to go kill and cook the chickens with the 2 hours they spent before finally serving us. Mallory was like "Uh, actually, I ordered chicken" when they gave her pasta. Of course, Emilio just replied "I know!" and she was like "Well, uh did you like run out?" and our little Emilio stated "Yes" and just walked away... leaving us. So then we finally got some cake... the only food that looked appetizing all night, and when I lifted my fork to my mouth, they turned off the lights cuz of course, everyone had been finished eating for hours. Oh and did I mention that the room was 90% filled with tables and the dancefloor was big enough to fit maybe half the people there. As the night went on, many more things went wrong but in the funniest was possible. I love our class for being able to make the best out of a horrible situation.

Best parts of the night- group pictures, conversations with Matt about varios subjects, bathroom parties, making Matt carry my purse, sneaking Coco past Handlesman without her getting busted for her clearly-visible tattoo, Emilio (in all his unprofessionalism), Mrs. Hurley for stealing cake for us so we didn't starve, Quinn doing her model poses in the bathroom, begging the DJ to sing let us all sing Happy Birthday to Amanda, trying to figure out how to open the messages in a bottle, having random, yet deep conversations with Lorena at her table, and last but not least, STUDIO DINER afterward!

We left Prom at 11... haha as soon as we could. Matt drove us to this diner near Mallory's house which by the way, is amazing. We learned Dayna can tie a cheery stem in her mouth. Matt was amazing and paid for all of us. As we were leaving, I quite literally texted Amanda Lenox and as we walked around the corner, there she was, sitting with Maegan, Annabel, Jenna, Benadette, Alli, Sara and the rest of their group. Quite amazing! We talked to them for a bit while they waited for a table. They asked us what one word would we use to describe the night, and of course... theirs were "dream-come-true", "amazing", "perfect", etc... and ours were like "underwhelming", "hell", and "horrible"- which made us laugh.

All in all, it was one of the weirdest dances I have ever attended. Very hilarious, and I did indeed have a good time. And Matt and I matched perfectly!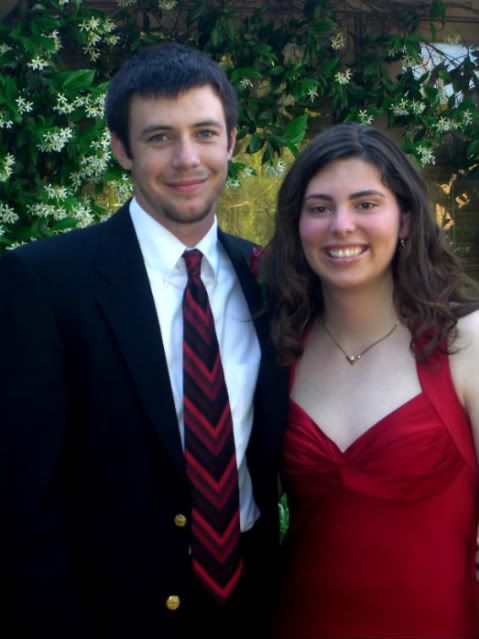 (
A Night to Treasure aka the Prom from Hell!
Collapse
)