I went on Senior retreat, much to my dismay at first. I went because all my friends were... and it was on my birthday, and who wants to be alone at school without their friends on their birthday? So I went with the false inclination that it would be just like Junior retreat, and I was anticipating the worst, and most awkward/heartbreaking feelings ever. However, it was nothing like I expected- a total 180 from Junior retreat (which is what I needed). Everyone cried both nights... on any other occassion, I'm sure it would seem odd to walk in on a room full of 41 girls all sobbing in a circle, but to us, it seemed normal. I realized that, going to an all girls school, we don't act as normal high school students often do. I think we are much closer which is something I have grown to love about our class. We can truly say anything to anyone and know that it will be okay. I didn't talk much... because that's how I always am. But with Bianca in my group, I felt more comfortable. I feel I had a great group... small group of 5 other girls, all from different groups. I found that I had a lot more in common with them and they were actually real people, a concept I had failed to believe for years.



Dayna, who has been my everything for over 2.5 years now, was a leader and therefore, gave a talk... hers was about "Who I am" and though I know her so well that I had been lucky enough to be one of the very few people she had shared this issue with before, I felt honored and so proud of her that she had the strength to share it with a room full of girls and teachers, many of whom she had never truly gotten to know. I thought I would be okay until Dayna said the one sentence that triggered every underlying emotion I had in my body. She mentioned a girl, her good friend, who had helped her get through the challenge she was discussing by truly listening and relating through her own experience with family members... and the late night talks, not by phone or internet- but rather, via text message. My heart sank and and the first time in nearly 6 months, I knew Dayna hadn't forgotten about me. It was at that moment I knew she truly did love me and care about me because I did truly love and care about her. Over the years, I had felt I was always taking up the majority of the texts, rambling about my mom, girls, or my problems with K, but for the first time, Dayna let me know, she let everyone know, that I had made a difference in her life. When she had finished, I sat there in awe until I picked up a pen and wrote Dayna a novel... consisting of everything running through my mind and the simple concept of "I love you" in our relationship. It was a rough draft and I didn't intend to give it to her, but I did. It wasn't the last long letter I wrote her over the course of 2 days... nor was it the second to last. Feelings kept running through my head, word by word, page by page, until I felt there was no other word that had not already been penned that could possibly describe my feelings for my best friend. Even though it was her talk, about her own struggle in life, I felt it was the nicest gesture anyone had ever done for me. And it was just what I needed to remember I'll be okay.

I'm still struggling with forgiving myself for the mistakes and choices I made that have both physically and emotionally hurt her. It's funny how something so drastic can just change a friendship in the blink of an eye. I had been holding those feelings in for 4 months... not really telling anyone the heartbreak or emotion to my side of the story, still embarrassed that it happened at all because I was the one at fault. The second night, having been one of a small amount of girls who did not cry through the heartbreaking stories of two faculty members, I used the awkward silence at my table group to take a deep breath and slowly let out a "I have something to say..." There was a pause as I didn't know where to begin... then I just started... and it all came out. Sentence by sentence, moment by moment replaying in my head. I thought I was done and said "I think that's all"... only to start again a minute later with an even longer rant. It was unlike me to express those moments from the scariest night of my life and the decision I most regret in life, especially as it was only a mere 4 months earlier and the person I had hurt was sitting across the room. I think it was one of the hardest thing I have ever had to do, yet I didn't shed a tear. I came close on the words filled with the most emotion and I knew would be hardest.

Flash forward to later that night, it was about 10:30 when we got back to our cabins... we had 2 cuz we are bomb like that haha Lorena let out a "let's go see Coco! Come on, Alex, we're going to see Coco!" which really isn't that out of the ordinary because I love that girl and her cabin is so hilarious. The previous night, Lorena and I had been up in their room playing catch phrase til 2 am. We were up there for maybe 30 minutes... lots of new people came in and the room was filled with girls from all cabins. We played catch phrase a bit and just talked about random things. Those were some of my favorite parts of retreat... just the last night conversations with girls I had never spoken to before. Lorena said, "Okay Alex, let's go back down now." which was extremely odd because we would usually be in there for hours and it was literally mid-conversation. Mallory comes busting in with a glowstick around her neck and says, "Okay Alex, come on"... as I walked downstairs, I anticipated our cabin decorated with a streamer or two... but when I walked in, there were whagt seemed like hundreds of balloons, streamers running in all directions across the room, and Hannah Montana decorations all over. I don't think I said anything... my smile was too big for me to let a word out. I think I managed a "thank you" and another one and another one. Before I knew it, the rest of my cabin came busting through the door with a Jesus statue that hung over every bathroom in every cabin... they seemed to have broken the one from ours haha his arm fell off when they were hanging streamers... and in the OLP senior fashion, they taped his arm back on, hung him up, and acted like no one would notice. Every minute, it seemed like new girls were coming in and out, wishing me a Happy Birthday, playing Twister in the other room, and eating. People who I had never spoken to came in, hugged me, wished me a Happy Birthday, and just hung out on our beds. We had a thizzle dance fest haha no joke.
See?! Like 20 girls doing the thizzle danceeeee!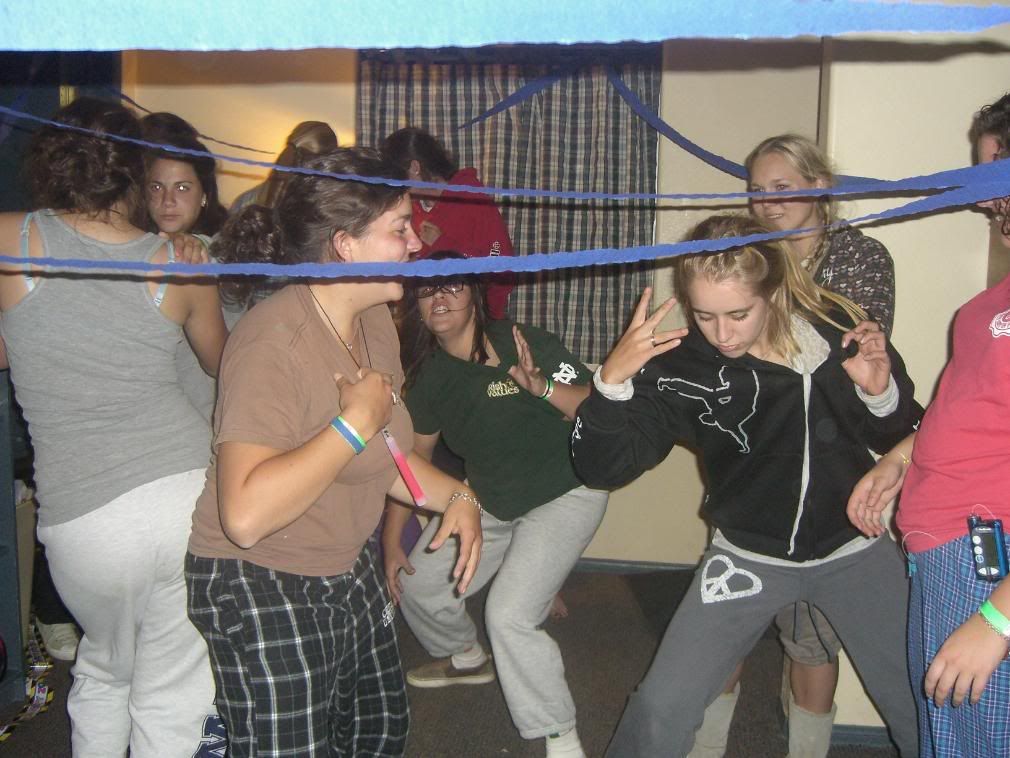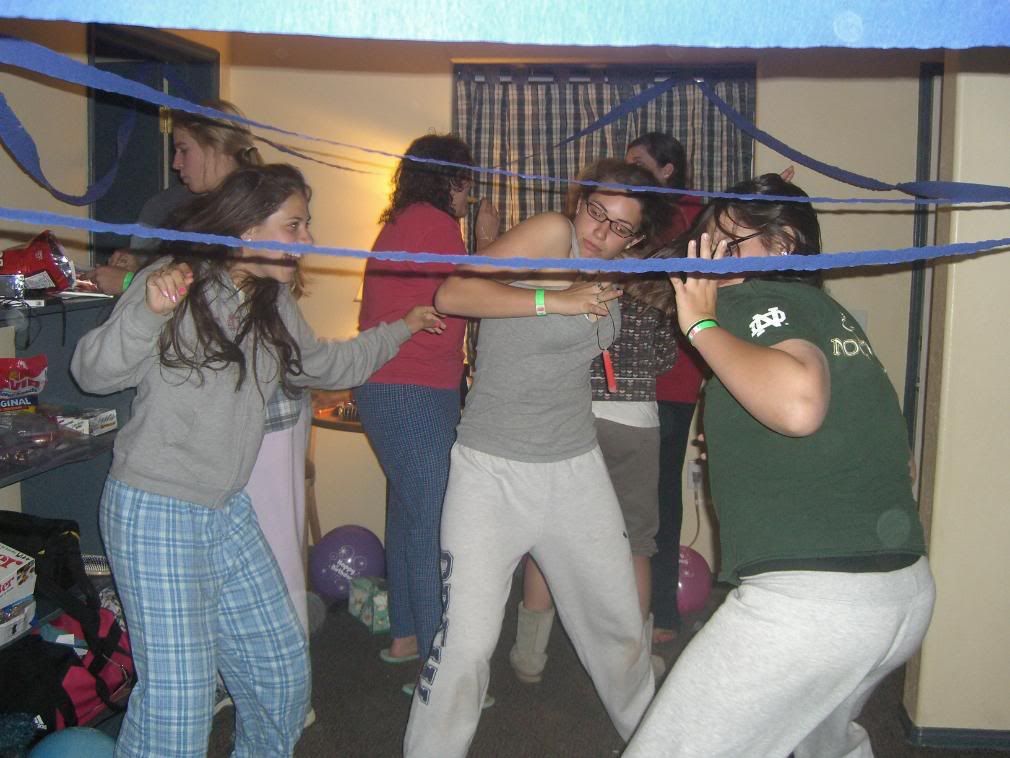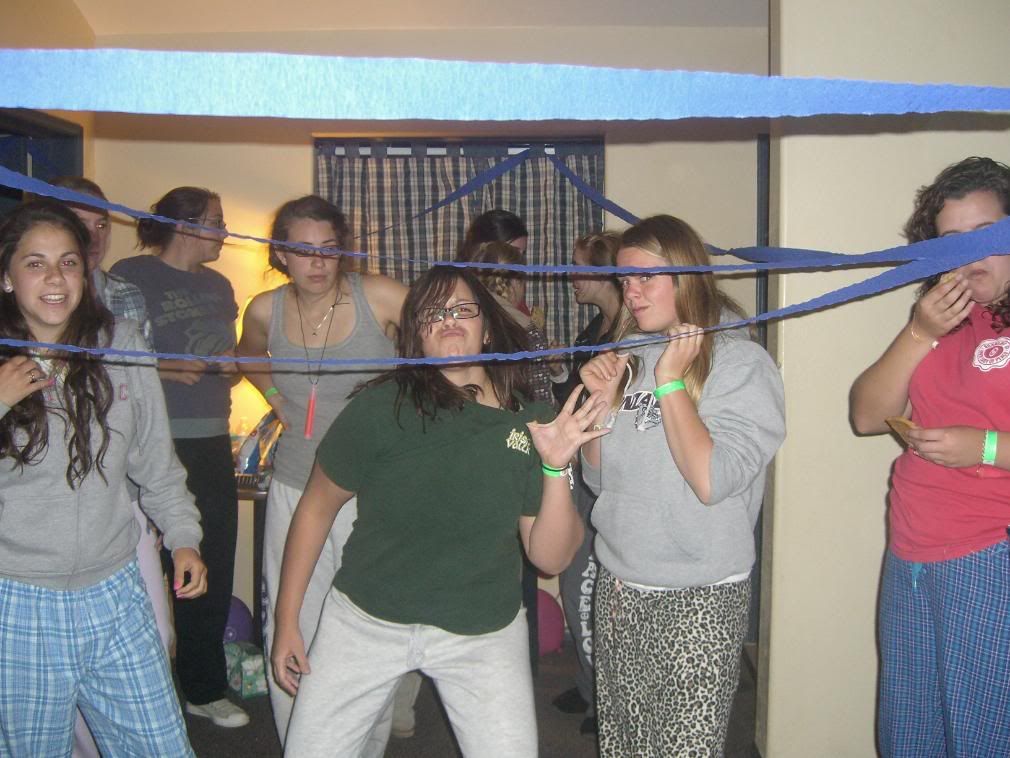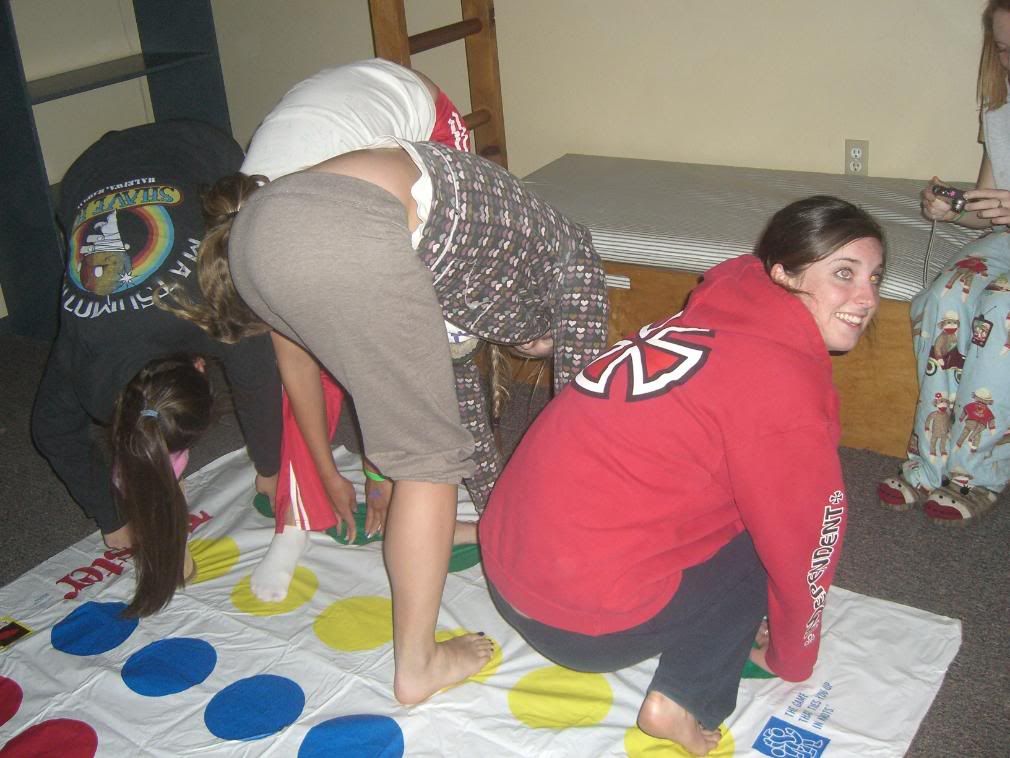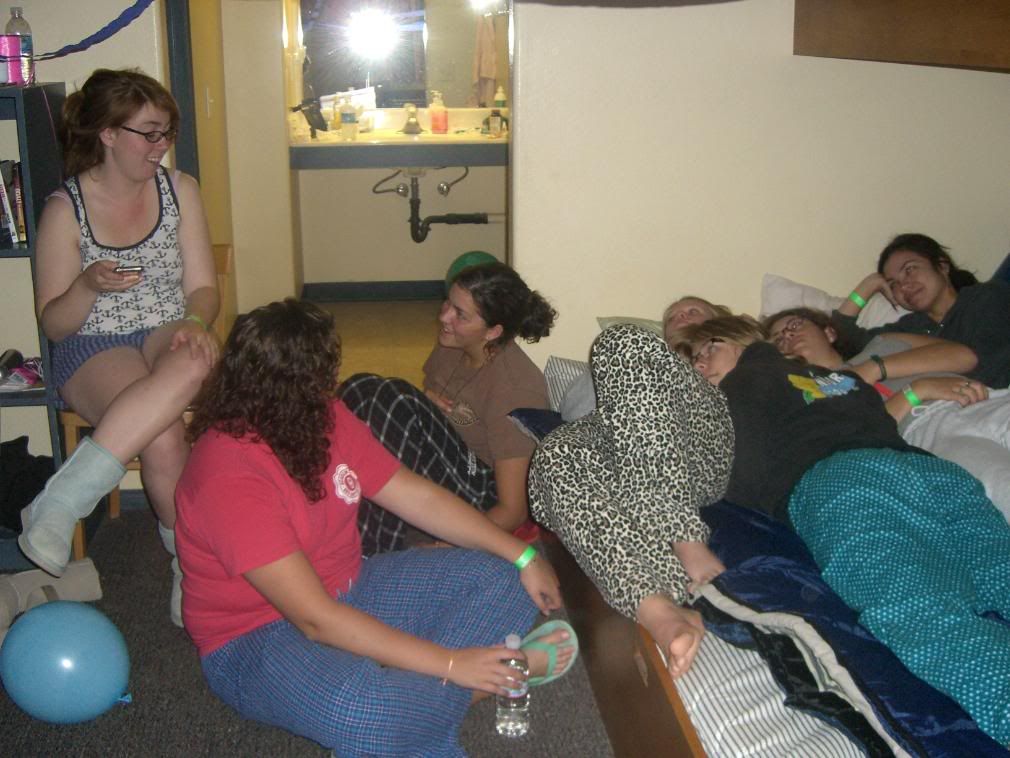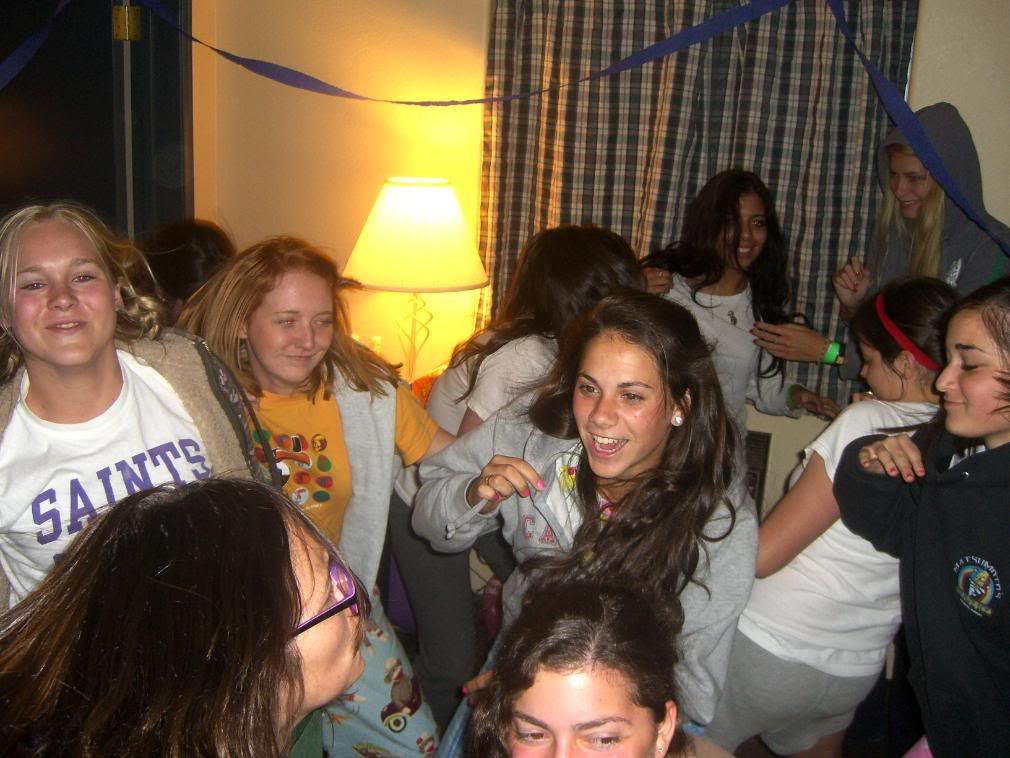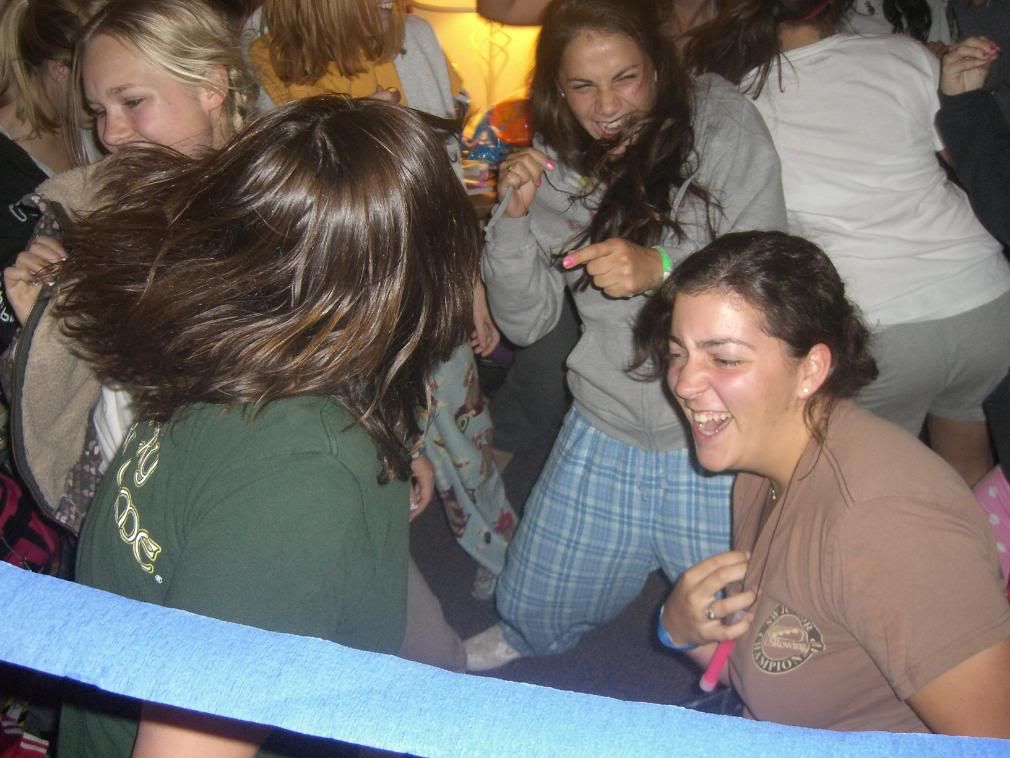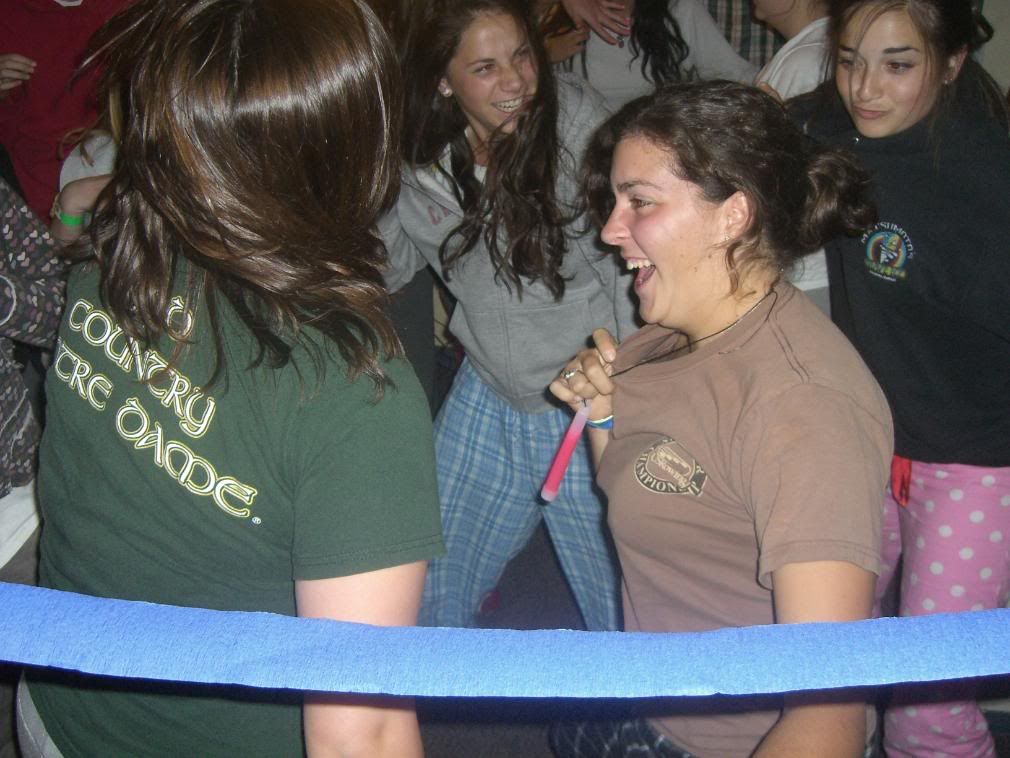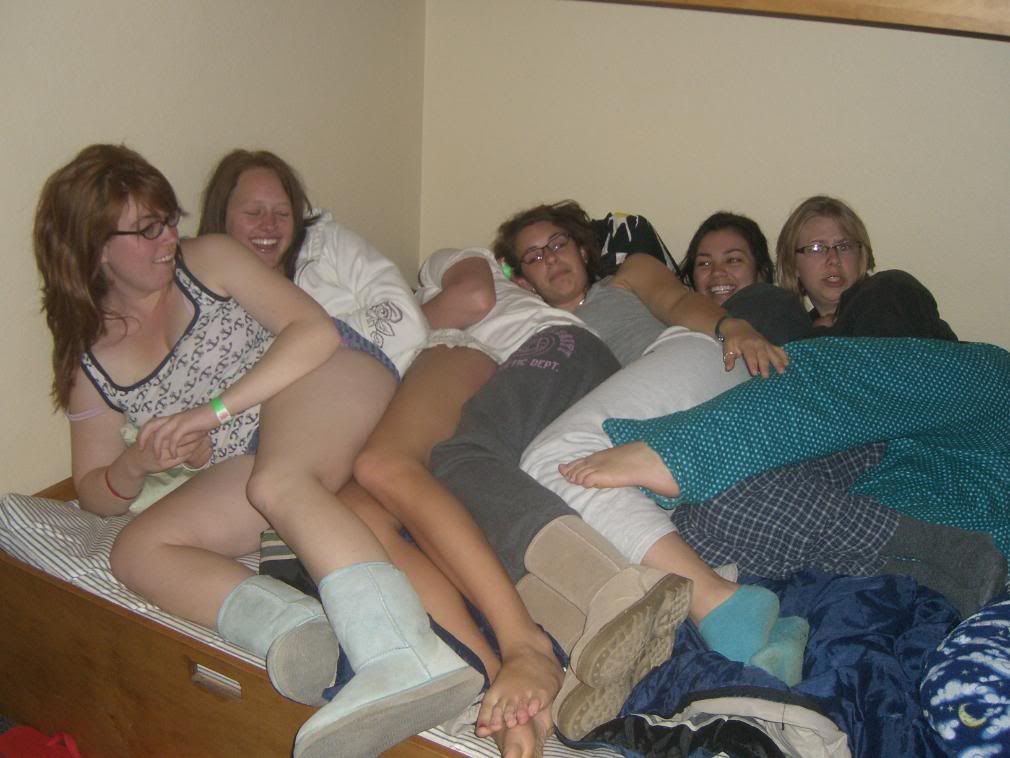 As there was a small crisis with a girl, girls were in and out arond 11:45... but magically, with one minute to spare, everyone... literally atleast 35 girls were in my cabin, ready to sing Happy Birthday at midnight. It was one of the nicest and most amazing moments of my life. I really felt loved and cared for. The girls in Spring Sing put on "All for One" and performed it... then put on Hannah Montana songs for me. It was really amazing... by 1:30 everyone was gone, and it was just the girls in my cabin... we had the best conversations, wrote notes to people, and just laughed. We stayed up til atleast 3. It was one of the best nights of my life. And it ended with a "Hey Dayna?" "Yeah?" "I love you" "I love you too" which is a great and comforting end to any night.

I'll update about my birthday when we got home later... and I'll combine it with the Spring Sing partyyyy which is in a few hours... and my own birthday party on Sunday!